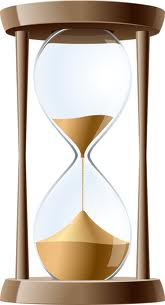 I have a good friend, a woman close to my own age, who struggles with time management problems. She usually arrives late for social events and often fails to meet deadlines at work. In her free time, she sets time-related goals for projects that mean a great deal to her and consistently fails to achieve them. In general, I'd say she feels very unhappy about her troubled relation to time.
Many clients I've seen over the years have struggled with similar difficulties, most notably with procrastination. I'm sure many readers have difficulties in completing their work on time. Often, an underlying perfectionism lies at the heart of the problem. With a harsh superego finding fault with everything you do, you're often reluctant even to begin: nothing can ever be good enough. Safer to remain in the realm of infinite potential — that ideal in your head — than to suffer your own scorn and self-criticism for attempting to produce something real and inevitably imperfect.
For many people who struggle with this type of perfectionism, only external pressure (the reality of an impending deadline) enables them to relinquish an imaginary ideal and produce something real. I'm thinking of the writing process, in particular. I've know students, freelance writers and reporters who typically dashed off an article or term paper at the very last moment, no longer able to proscrastinate without penalty. This hasty, last-minute approach offers a superego work-around, too: Of course it's not my best effort because I only threw it together when I ran out of time. If I'd started earlier, I would've written something much stronger.
Some people are so crippled by perfectionism that they're unable to escape the grips of an ideal; proscrastination becomes a total inability to take the first step. Last year, I worked with a young man named Reed who envisioned himself as an entrepreneur along the lines of Steve Jobs or Bill Gates. For months, Reed struggled to come up with a start-up concept, doing endless "research" and setting time-related goals for himself he consistently failed to meet. He abruptly quit therapy without advance notice, in large part because (I believe) he felt unable to confront the depth of his shame. He retreated into his fantasy world of Internet fame and riches rather than continue to face me (and his shame) each week. Many people "fail" in their lives for similar reasons — because they can't accept how long it takes to accomnplish most things worth doing — often consoling themselves with fantasies of "what might have been."
(I'm reminded of Lady Catherine de Bourgh from Pride and Prejudice: "There are few people in England, I suppose, who have more true enjoyment of music than myself, or a better natural taste. If I had ever learnt, I should have been a great proficient. And so would Anne, if her health had allowed her to apply.")
The client I described in this early post about bipolar disorder had a related problem with time: he hated how long it would take to write a novel, unable to produce it little by little over many months; instead, when in a manic state, he felt as if he'd triumphed over time and magically produced his book "all at once." Over the years, I've worked with other clients who also displayed manic bursts of creativity: they'd enter an altered state of mind, almost outside of time, and produce their works of art as if by magic. Omnipotence of thought also plays a role here, of course, and mania has other important features; but each of these clients had a problematic relationship with time, as if they couldn't accept the limitations it imposed. In one way or another, they all felt an underlying and largely unconscious hatred of authority.
Without a specific deadline, some writers experience a different sort of time management problem: they continue polishing and revising ad infinitem. For them, there's always more time available to make further changes in order to achieve that perfect book or essay. All serious writers continuously revise their work, of course; in theory, one can forever find more ways to refine one's prose or sharpen an argument. At some point, however, we have to decide that we've devoted enough time to a particular project and that it's "good enough" as written. Some writers can't seem to sound the bell, call it a day, put their manuscript to bed.
Recently, I've begun working with a young man who has a deeply troubled relationship with time. He sleeps for several days in a row, missing work, cancelling his meetings, or he'll work throughout the night and sleep during the daytime when he has other commitments he then fails to meet. He routinely reschedules appointments three or four times before keeping them. On an unconscious level, he finds it very difficult to accept the linear nature of time, the inexorable flow of day into night, the immutable 60-minute hour. It's as if he is constantly defying time, re-writing its rules to suit his own wishes rather than conforming to its inherent restrictions. In fantasy, he resides in a world outside of time, or at least one with a more pliable space-time continuum.
At heart, I think most of us hate the passage of time because it leads inevitably toward death. On an unconscious level, "completion" (be it a work of art or some other project) often links up with ideas of death; for this reason, some people (unconsciously) procrastinate in order to forestall their ultimate fate. I recently came upon this quote from Donald Nathanson's introduction to Affect Imagery Consciousness, Sylvan Tomkins' masterpiece: "Knowing it was his 'lifework,' Tomkins conflated 'life' and 'work,' reifying the superstitution that its completion would equal death and refusing to release for publication long-completed material." Nathanson's prose can sometimes be fussy and unnecessarily cumbersome, but you can see his point.
Time involves irreversible movement along a line, in one direction only, and we all know where it will end. In one way or another, each of us has a complicated, unhappy relationship with time.