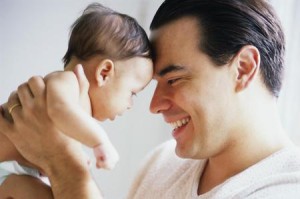 I have a memory of my father from when I was about seven years old. Whether it is factually accurate, it is emotionally true.
My mother was in Texas at the time following the death of her mother. My other grandmother, my father's mother, had come to stay with us because he didn't cook, clean, or involve himself with the daily routines of his children. My father was a self-employed builder and worked long hours.
On this particular Saturday, I was running around alone in the backyard. I don't recall playing any particular game or acting out some fantasy. I only remember running and running until I was out of breath and heated from the exercise. At that time, we lived on the Palos Verdes Peninsula, a part of the Greater Los Angeles area, and the day was sunny and warm.
Just beyond the sliding glass doors that opened from the breakfast nook onto our patio, my father had unrolled a set of blueprints upon the table. Because he was a builder, such plans were a fixture of our lives – lying in the back seat of his car, covering his desk in the home office, or spread out on the kitchen counter. The particular blue of the ink, their chemical, ammonia-ish smell, the smooth finish of the paper – these sensory memories linger from my childhood.
Feeling hot, I opened the sliding glass doors and entered the breakfast nook. My father's gaze remained downcast upon the blueprints.
"I think I have a temperature," I told him. "Would you check?"
Do people today still say, "I have a temperature" when they mean they are feverish?
Without glancing up from the building plans, Dad placed his hand on my forehead. A parental hand to a child's forehead – the classic method of checking for fever before reaching for the thermometer.
"You're just hot from running around," he said. He never looked at me.
This brief memory summarizes my relationship with my father. Wanting his attention, asking for it in some covert way, and not quite getting it. This memory also seems important because it involves being seen or looked at. In the literature of my profession, much is made of how the mother's gaze influences a baby's developing sense of self. In a formulation that has become almost cliché, we say that the baby sees itself reflected in the mother's gaze.
Lately, I've been thinking a lot about the father's gaze and its importance for a child's sense of self. In my experience, this occurs at a somewhat later stage of development. This may apply only to more traditional families where fathers played less of a maternal role in child rearing than they do today and devoted the bulk of their energies to career and providing for their families; although I've heard several similar stories from my (much younger) male clients of late.
I am speaking of fathers and sons but my views don't apply to them only. Girls need attention from their fathers, too – that is, they need to be seen – but as it happens, the clients who've recently been talking about their fathers have all been men. For these clients, being seen (or rather, not seen) by their fathers has had a major impact on their sense of self and more importantly, on their sense of being an effective man in the world at large.
In particular, I'm thinking of one man in his mid-30s whose father has always been enormously successful, or at least has given that impression to everyone around him. My client – I'll call him Seth – attended a first-rate university, has a high-powered and high-paying job, but still feels as if he lives in his father's shadow. He still worries that he's not a truly good and effective leader and has only managed to fool everyone. Seth and his father live in different cities now; at one recent family reunion, Seth's father spent most of his time at the table texting and sending emails on his cellphone. Like my father, he wouldn't look up, wouldn't make eye contact.
Seth felt invisible. And furious. He eventually made some rather hostile and sarcastic remarks, which provoked his father to retaliate. This interaction reminds me of my teenage years and the way I used to provoke my own father. At least when he was angry with me, he engaged. His expression might have turned ugly as he glared my way but at least he was looking at me.
My older brother has told me that he has not a single memory of spending one-on-one time with our father. Not playing ball, not going fishing, not reading together. Nothing. On camping trips, I used to tag along when my father when fishing, and he did teach me how to tie on a hook and to gut fish; but even along the stream, I fished alone. I used to get up early along with my father – it was the only time we ever spent alone together – but we didn't talk. My father's gaze remained fixed upon his newspaper while I read a book.
Not being seen by your father makes you feel insignificant, of course – for boys and girls alike – but it has a special impact on a boy's developing sense of manhood. As the spokesman (as it were) for society-at-large and what it means to be a man, the father's loving and approving gaze validates you and your place in that society. It makes you feel that you can be an effective, self-confident, and successful man.
My brother and I have both struggled with this issue. I was fortunate to enter therapy at a very young age and to spend 13 years being "seen" by my analyst, a man I regard almost as a second father. Other important men in my life have also made me feel seen and accepted – a favorite college professor, supervisors during analytic training, even an older friend. I may not have received the father's gaze I craved when growing up but I have since felt truly seen.
For most of my career as a therapist, I've viewed the transference through the lens of mother-infant relations; but lately, I've begun to focus more on the father-child aspect. Especially with the men in my practice, the ones who are much younger than I am, I sense how they view me as a sort of father figure. Being fully seen, accepted, and eventually loved by your male therapist can be a healing experience for men who didn't get what they needed from their fathers.
The usual disclaimers apply: not all of what I've written applies exclusively to men, women can function in "paternal" ways, etc.