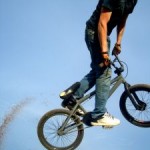 During my recovery from overload (the result of having ignored my personal limitations), I've found my thoughts turning to the psychodynamics of mania. Over the last few years as my clinical and theoretical focus has shifted to the role of shame in bipolar disorder, I've paid less atttention to rage and the sense of entitlement — the way they can often fuel a manic episode. It's true that I've written about these experiences in connection with borderline personality disorder but have neglected their role in manic-depressive illness.
Grandiose or magical thinking reflects the wish to achieve something all at once — to become wealthy or famous, or to complete a creative project without having to undertake the long hard work necessary for authentic achievement. In some cases, the underlying depression is so profound and the psychological damage from a traumatic childhood so pervasive that realistic growth is felt to be impossible — thus the magical all-at-once solution seems the only way out. Think of this as true mania, intimately connected with shame. Other people not so damaged by life, not so riddled with shame may also long to achieve things faster than may be possible in reality; they may resent the self-discipline, patience and deprivation necessary to achieve major goals. Rather than delusional, truly manic states of mind, they may try to achieve their goals through sustained bursts of activity that may last for weeks or even months. Such hypomanic states of mind may actually lead to actual achievement, but they reflect an underlying impatience and, in many cases, an angry denial of the need for a more consistent, slow-and-steady approach to accomplishment.
A familiar analogy often comes to mind in this connection. Years ago when my brother introduced me to mountain biking, he explained to me the concept of "resting uphill": when coming to an incline, most beginning cyclists tend to behave the way children do when confronted with a hill, rising out of the saddle and pedaling even harder in order to get the hill "over with"; instead, my brother advised me, shift into your "granny gear," continue pedaling at the same steady pace and keep your eyes on the trail directly ahead of you. Don't worry about getting to the top. When friends come to visit here in Colorado and I take them hiking, I often give them similar advice: slow your pace on the steeper inclines and focus your gaze on the path immediately before you rather than on the summit itself. This advice applies to many types of non-athletic achievement, as well: worry less about the final goal and more about the immediate stage ahead.
When I think about my writing during the first half of this year, I see myself out of the saddle and breathlessly pedaling in my drive to conquer the hill ahead of me. Since January 1, in addition to keeping up with my various blogs, I wrote four articles for The Atlantic, produced a new video on narcissistic mothers for my YouTube channel, researched and drafted a 45-page proposal for my book on shame, as well as conceiving, writing and releasing my psychological fairy tale, Cinderella. In retrospect, I see myself in a kind of hypomanic state, driven to "conquer the hill" by refusing to respect my own limitations as well as those imposed by reality.
And what, you may ask, is the exact nature of this particular hill? Selling my book proposal to a mainstream publisher. It's what I've always wanted, as many of you longtime readers probably know. All along, I have believed that with enough traffic here at After Psychotherapy, my status as a "Psychology Today blogger" and a "regular contributor to The Atlantic," I should be able to make myself attractive enough to publishers that they will look with favor upon my proposal. They will respect how much I "bring to the table" and decide to get behind me and my writing career. While I still believe this to be an achievable goal, it may take more time, patience and hard work to achieve than I have wanted to accept. Instead of going the slow-and-steady route, I shifted into manic hyperdrive over a six-month period in order to "make it happen."
As a result, I overtaxed myself and was stretched very very thin just at the point when life threw me some curveballs. In the last two weeks, I've had no choice but to slow down and rest. Not to resume work on Snow White at the Dwarf Colony, not to work every spare minute, not to get back to playing the piano. I've had to force myself to sleep more and relax. I'm glad to say that I'm recovering nicely. Physically, I feel much better, more rested, and taking more pleasure in this gorgeous Colorado summer. Yesterday, I was finally able to undertake my favorite hike, a moderately challenging ascent to 11+K feet, without feeling taxed by it. By the time we came home, I had a strong sense of physical well-being.
I had planned to spend some time yesterday afternoon writing. I was looking forward to it. Then I noticed I was feeling slightly grouchy with family members. Nothing intense, nothing I actually voiced; but I had to stop and wonder about the reasons. Finally, it occurred to me that I was tired, that instead of writing, I needed to take a nap. You would think such physical symptoms of fatigue would be obvious to a person schooled in self-observation, but I persistently miss these cues. I guess I should say I deliberately miss them because I don't want to acknowledge my fatigue. When I eventually opted to take a nap instead of working, I felt angry. Without quite voicing it to myself, I wanted to get right back on that writing bicycle and start climbing to the summit!
I'm glad to say that my anger didn't stand in the way of that nap. Today, I decided to write about a type of mania that many of you might understand. There's a kind of anger behind my own mania: anger at my own limitations, anger at the limitations imposed by reality, and anger about the time necessary to achieve a difficult goal. To curb this mania, I've had to recognize my anger, respect my limitations and force myself to do what I most decidedly do not want to do — rest.
Enough writing for one day. Back to my R&R. I can always write tomorrow!