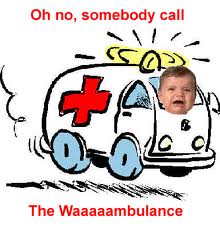 "Being a victim is more palatable than having to recognize the intrinsic contradictions of one's own governing philosophy."
— Tom Clancy, The Hunt for Red October
"Self-pity is easily the most destructive of the non-pharmaceutical narcotics; it is addictive, gives momentary pleasure and separates the victim from reality."
— John Gardner
"He did not know how long it took, but later he looked back on this time of crying in the corner of the dark cave and thought of it as when he learned the most important rule of survival, which was that feeling sorry for yourself didn't work. It wasn't just that it was wrong to do, or that it was considered incorrect. It was more than that–it didn't work."
— Gary Paulsen, Hatchet
As I was beginning work on this post about self-pity, I searched Google and found a list of quotes from GoodReads. The selection above captures some of what I'd like to say on the subject, although not one of the many quotes from GoodReads expressed my most important insight, based on personal and clinical experience: that self-pity contains a lot of unconscious anger and stems from an underlying sense of entitlement. Let me give a personal example.
For most of my life, at least since I was in college, I've wanted to support myself as a writer. After graduation from UCLA, I wrote and sold my first novel when I was 22, making less than $5,000 from my year-or-so of work. Guided by my therapist, I came to the conclusion that I needed to find some other way to support myself financially, especially if I planned to marry and have children. Eventually, I enrolled in graduate school to become a therapist. I would have a part-time practice, I imagined, with plenty of time left over to write.
In Los Angeles where the psychotherapy profession was over-crowded, having a practice meant doing a lot of pro bono work — teaching, supervising interns, serving on committees at your institute, etc. Once I added the extra work necessary to sustain it, that part-time practice turned out to be a full-time job. Writing remained on the back burner. After my children were born, I had very little time to write. It has taken many years for me to move writing onto one of those front burners, but on the priority list, it never comes first. My obligation to earn money, my responsibilities to my family and to my clients always take precedence over writing. I have investments I must tend to before I sit down to write.
If I let myself, I can easily fall into self-pity on this subject: After more than 40 years as a writer, why does my writing never take precedence, unless I deprive myself of sleep in order to grab two hours in the morning? Life is so unfair! Somebody call the waaaambulance, please! I am an extremely fortunate man by any standard; I lead a very comfortable, one might even say privileged life: family, home, spending the summers in Colorado, etc. My work as a psychotherapist fascinates me; I'm in good health. I should feel grateful (and I usually do) to have such a rich life, both emotionally and financially.
But a part of me — the aspect I usually think of as my inner brat or sometimes as Borderline Joe — demands to have exactly what he wants. He feels that reality should conform to his expectations, rather than vice versa. He feels a deep sense of entitlement. When my children were young, I came to the realization one day that whenever they said, "That's so unfair!" what they really meant was that they hated what I'd just told them. The demand for "fairness" was but a pretext. My inner brat makes the same complaint — Life is so unfair! — but this actually means I hate that life does not conform to my wishes.
When I was very young and depressed, early in my therapy, I often wallowed in this kind of self-pity. I could easily find myself "crying in the corner of the dark cave." My therapist never felt sorry for me. He would talk instead about my sense of entitlement, the feeling that I should be given what I wanted without having to work for it. He talked a lot about my anger. Eventually, he helped me to realize I had two choices: I could continue to indulge in self-pity, demanding that reality conform to my expectations and, as a result, accomplish nothing in life; or I could face reality and through my own efforts, shape my life into one that would satisfy me. I could either demand the life of a writer or I could find a way to create it, within the realm of the possible.
Every writer faces this challenge. My friend Peggy Payne — whose fabulous new novel Cobalt Blue has just been released by Roundfire Books — is the only person I know who has consistently supported herself with money earned as a writer. Since graduating from college, she has worked as a reporter, freelance journalist, editorial consultant and writing teacher in order to support her love of the written word. My other writer-friends are academics or hold "day-jobs"; few people can earn a decent living solely as a writer. My inner brat expects not only to live as a self-supporting writer but also to enjoy the comforts and privileges of a more affluent, professional life. Give me a break! When I catch myself complaining — and the plaint can easily go unnoticed for quite some time — I have to laugh.
In my practice, I have found an understanding of the link between self-pity and anger to be very useful. In my current practice, I have two clients who often feel sorry for themselves, detailing their victim status, the hurtfulness of other people and the injustice of the world; both of them (one man and one woman), struggle with a great deal of anger. For the moment, that anger remains largely unconscious, mostly because they're terrified of its intensity; over time, I'll keep trying to make them more consciously aware of that anger, to help them learn how to tolerate it. I hope that facing their anger will ultimately prove an empowering experience for them, just as it was for me.
Self-pity, as John Gardner explained, separates the victim from reality. This means we're unable to confront that reality and do what we can to change what we don't like about it. In other words, as a life strategy for dealing with adversity, self-pity just doesn't work.