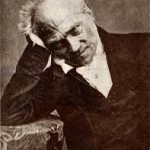 I haven't been posting much lately because I've been focused on my book about narcissism, plus I just completed another article for The Atlantic, which you can find here. It's about bullying as a kind of narcissistic behavior, linking the Richie Incognito story with the suicide of Rebecca Sedgwick and further thoughts on Lance Armstrong. Anyway, I've now emerged from my research-and-proposal-writing cocoon; it feels good returning to the "outside" world!
So in my practice, I've lately been thinking about pessimism as a character trait. Selena, the client I described in my post about the importance of joy in psychotherapy, tends to be very pessimistic about her future. She believes that she blew her opportunity to launch a career right after college and that nobody will want to hire her now because newly-minted college graduates will be applying for the same positions. Not long after she graduated, Selena was fired from a job that didn't particularly suit her, and she found the experience painfully humiliating. Most of us would feel the same way, but Selena has had a hard time recovering and moving on. She feels that getting fired has "tainted" her. Pessimism about her future keeps her immobilized.
In my earlier post, I described how Selena begins our sessions with an air of detachment, as if we don't matter to each other; I suggested that she relied on this appearance of indifference to protect herself from the possibility that I might not be glad to see her. Pessimism about her future serves the same self-protective function: rather than run the risk of further rejection were she to apply for a job, Selena can't allow herself to feel interested in or excited about her future, convincing herself that there's no point in even trying. The possibility that her potential interest in a new job might be met with rejection feels unbearable; her pessimism represents a kind of psychological defense mechanism warding off that pain.
Cognitive therapy describes defensive pessmism as "a strategy to prepare for anxiety provoking events or performances." Individuals who rely on defensive pessimism "set low expectations for their performance, regardless of how well they have done in the past. Defensive pessimists then think through specific negative events and setbacks that could adversely influence their goal pursuits. By envisioning possible negative outcomes, defensive pessimists can take action to avoid or prepare for them." From the cognitive behavioral point of view, pessimism thus seems to be a kind of adaptive strategy that helps people pursue their goals.
In my experience, pessimism more often stops people like Selena from pursuing their goals. Or it causes them to pursue those goals half-heartedly, as if it makes no difference whether they succeed or fail. Clearly they can't bear the prospect of unanticipated failure or disappointment. Pessimism/indifference gives them a sense of control and deflects the pain: I knew all along it wouldn't work out. It's no big deal because I don't really care. My kids generally employ this strategy and tease me about my often unwarranted optimism. William has told me that it's better to expect the worst than to be disappointed, accurately pointing out that I am often deeply disappointed when things don't work out as I hope. I may have to write a further post on unrealistic optimism as a kind of denial.
Janine, another one of my clients, has begun to address some long-standing dissatisfactions in her marriage, talking to her husband about his self-absorption and neglect of her needs. When she describes their talks during session, she frequently expresses pessimism about the possibility of improvement. She thinks he can't or won't change, that she'll inevitably be disappointed, and their marriage will remain in this unhappy rut. I've pointed out her pessimism and suggested she can't bear to feel hopeful because the risk of disappointment in the face of hope feels unbearable. Janine, incidentally, is another client who rarely seems glad to see me; she usually greets me in a flat tone of voice with an expressionless face.
Both Janine and Selena had difficult mothers, putting it kindly. Selena recently showed me some photographs taken when Selena was an infant. Given that most families tend to snap and preserve photos of happy moments, it's surprising how joyless her mother appears in those photos. In some of them, she appears to be angry. From other things I've heard, my impression is that she disliked the experience of being a mother and took no joy in her baby. Janine's mother was a nightmare, utterly unsuited to motherhood. I feel quite certain that, at times, she hated baby Janine and often wished she would disappear.
In the language of affect theory, we might express it this way: when the mother consistently fails to reciprocate her infant's experience of enjoyment-joy or interest-excitement, pessimism develops as a strategy for warding off further disappointment. Enjoyment-joy and interest-excitement are nipped in the bud. Allowing oneself to feel enthusiastic and optimistic about the future, or about one's relationships, is far too threatening because it risks exposure to more pain. At the deepest level, this disappointment threatens to throw us back on feelings of being profoundly damaged and therefore unlovable. Pessimism helps to ward off the potential experience of shame.
I'm just going to believe I'm alone, unloved and that it will never get any better, because to hope it might turn out otherwise feels far too risky.