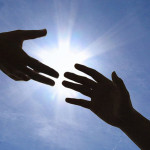 One of my clients has lived in a small, closely-knit community for many years now. In partnership with another couple, two people she considered good friends, she owned a restaurant/bar that served as a gathering point for their community. As it turned out, these "friends" had been stealing from her for quite some time, skimming profits that should have been shared with my client – easy to do in a cash business. When my client finally learned the truth, she confronted her partners and, to make a long and very painful story short, they out-maneuvered her and took control of the business.
Losing the restaurant/bar was painful enough, but far more agonizing was the loss of many relationships she had developed over the years within her community. Her former partners lied about her and successfully turned many people against her, men and women she had formerly considered close friends and confidants. Sides were drawn and she found herself increasingly isolated. The ease and speed with which many people let go of her was devastating. It stirred up life-long feelings of shame, that she was defective and of no value, not worth holding onto.
My client's loss made me think about the people over the years who have "let go" of me, or who I've let go of. Friendships come and go, of course; people often drift apart through inertia or distance. But then there are those particular friends who stop returning our calls, or people whose calls we stop returning because they're too "difficult" in some way. For me, and for my clients as well, to be on the receiving end of this experience stirs up shame. In keeping with some of my other views on this subject, I think of it as a kind of unrequited love. I like you and want to be your friend, but you don't feel the same way about me.
I "let go" of an old friend last year, but in truth, I think he had already let go of me. A certain formality had entered into his emails and I found it painful, shaming in a way, as if he were saying he no longer wanted to be close to me, that I wasn't "worth it." I think he disapproved of my website and my efforts to build a career as a writer for mass market publications; I know his feelings were complicated by envy for my success (he's also a psychotherapist), but that didn't make it any less painful when he pulled away.
I have another client who lives a very isolated life, and it's not because she doesn't reach out to other people within her community. As a single mother, she's a bit out of place in this conservative, family-oriented town. On a rational level, she understands the reasons why people don't reciprocate, but it's nonetheless painful. It feels to her as if she's not "worth it." Even when she thinks she has forged a meaningful connection, it often turns out to be more tenuous than she had thought. Her friendships are precious to her, but other people seem to "let go" far more easily that she does.
I turned 60 last week and have just moved from North Carolina to Colorado. I'm in a reflective mood, thinking about the current condition and the future of my friendships. There are the few long-term friends who for years now have "held on" tight, despite the physical distance. We manage to get together at least once a year, usually in Colorado; we Skype and we text and we email because we've invested so much in one another. I've also forged some important new friendships this year, surprising to me at this "advanced" age. I'm mostly feeling good about my connections with other people, but also wistful about the friends who have slipped away over the years.
I have a story I sometimes tell, about an old friend with whom I had a falling out some 30 years ago. She was an academic, living in New York City at the time, and I went to visit her and her husband, a promising artist. She invited some friends over for dinner one night, a group of other academics and artists, all of whom knew each other well. We were eight or nine at table, and over the course of the evening, nobody asked me a single question or tried to include me in the conversation. I made some efforts but the evening was both painful and awkward. I felt like an outsider, out of place.
At the end of the evening, my friend asked me what I thought about Prof. X, a man who had held forth for much of the evening, and I told her that I thought he could learn how to ask a question. Probably not too diplomatic on my part; but she took my point and told me, with obvious contempt, "You're not important enough for Prof. X to take an interest in you." And that was the end of our friendship; she distanced herself and I followed her lead. We had been extremely close for years. We had travelled together and written two plays together. It didn't help that she and my future wife disliked each other.
But the memory of that friendship still causes a twinge of shame. Not because I was too "unimportant" for Prof. X, but because I didn't matter enough for my friend to hold onto me. I suppose you could say we both suffered "narcissistic injuries" – me because I felt slighted, and she because she felt criticized on behalf of her friend the professor; in retrospect, I can see we both felt shamed in some way and defended ourselves against that pain by pushing away from each other. Sad, really – the way friends let go of one another over the years. I suppose the fact that I'm still talking about this breach says how painful it was to me, and how lasting the shame. It's ironic because the subject matter of my new book would probably interest her as it dovetails with some of her own areas of academic concern.
On that particular note, the book is now scheduled for release on September 22. As I promote my book, I've decided to follow Alice Hoffman's example, gleaned from Facebook posts concerning her latest novel. Ms. Hoffman is factual, concise, and grateful in a way that always feels sincere. Without further ado, here's the cover of my book: