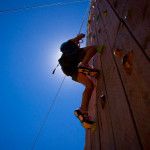 During a session on Thursday, one of my clients was talking about his feeling that he had "arrived" in his profession. In his mid-30s, he's well-established now in a competitive field, earning an excellent income and finding himself respected and sought-after as an expert. As I listened to him, I recognized that I had never felt that way, not fully. By just about any standard, I'm successful, leading a comfortable life; I'm valued by my clients and respected by my peers. I've written and self-published a book on psychological defense mechanisms that has sold far better than I expected. But I have not felt that I've truly arrived, not yet.
Arrival, to me, has always meant being accepted by the New York publishing world as a serious writer. As much as I love my work as a therapist, I've always thought of myself as a writer, first and foremost. For me, arrival would mean finding a first-rate literary agent and then securing a book contract with one of the Big Six. This is my definition of success and I've been trying very hard for a long time to achieve it. Despite what I wrote in my post about precocity and impatience, around the time I sold Why Do I Do That?, my contract with New Harbinger Publications didn't really give me that feeling of having arrived, not fully. New Harbinger is a small specialty house based in Oakland, California. And then, I had such an unhappy experience working with their editorial team, who tried to shove me into the cognitive-behavioral box, whatever satisfaction I felt didn't last.
I've mentioned here on the site that I've been working on a book about narcissism for a while now. In October, I sent my proposal out to A-list literary agents and actually got to choose between several very good ones who wanted to represent me. Together, my superb new agent Gillian MacKenzie and I worked hard to craft my first draft into the strongest proposal we could devise. I had some excellent and crucial assistance from my friend Emily Heckman, a freelance editor. As always, I had the weekly support and critical feedback of my writer's group: Laurel Goldman, Angela Davis-Gardner, Peter Filene, Christina Askounis and Peggy Payne. Earlier this month, Gillian finally sent out my book proposal to New York publishers. There was a lot of interest. Bids were due by noon yesterday — the day following the session with my client who felt he had at last arrived. I wanted so much to feel the same way.
I was sick with dread and anticipation yesterday morning, but in the end, my book sold to Touchstone, an imprint of Simon & Schuster. My editor will be Michelle Howry who also edited my friend Cat Warren's fine new book, What the Dog Knows. Cat gave Michelle high praise, so I know I'll be in excellent hands. Touchstone's offer was strong, indicating a lot of enthusiasm for my book. It will be released in summer 2015.
Anyone who wants to write books and thinks it worthwhile for thousands of people to read them has to have a healthy does narcissism, and I'm no exception. And of course I've had those grandiose fantasies about what might happen if my book becomes a best-seller, etc. But what I feel much more is that at last I belong. What I've wanted all these years is to have relationships with an agent and an editor I respect and who respect me in return, to participate in the world of writing and publishing. I love books and revere good writing. And when it comes down to it, I don't feel narcissistic or self-absorbed because I so strongly feel that this success belongs to everyone involved: I could not have done it alone. I feel deeply moved this morning as I write, full of gratitude for the help and praise I received along the way.
And proud of myself. I've worked so hard! Here's what Angela wrote to me in an email this morning: "I've been thinking about how several years ago you began to focus, with great care and hard work, on building an online presence, and then launched your blog. Then labored on that, which led to such developments as the Psych Today and Atlantic. It's wonderful to have witnessed such constant, smart dedication paying off with this sale. Bravo and congratulations!" Thank you, Angela. It feels wonderful.
So now, I can say and truly feel it — I have arrived.
This will be my last post before the New Year. I want to wish all of you a happy holiday season and much success in all your endeavors during 2014!