In Part One of my discussion of Robert Whitaker's Anatomy of an Epidemic, we learned that there is no  scientific basis for the theory that mental illness results from an imbalance in brain chemistry; Part Two showed how, in the main, patients who were never given psychiatric meds have far better outcomes than people exposed early on to such drugs.  In this third and final part, I'll discuss what these medications actually do to your brain chemistry and why they lead to a worse prognosis in the long run.
In order to understand these processes, we need a bit of basic neurology.  I'll try to keep it simple.  As you probably know, the brain is made up of billions of neurons; each one of these neurons is connected to many other neurons.  Messages travel along the neurons, to and from the brain, moving from one neuron to another across a tiny gap called a neural synapse or the synaptic cleft.  One neuron releases a chemical messenger  called a neurotransmitter into the synapse; the molecule then travels across that tiny gap and bonds to the next neuron on the other side, thereby delivering its message.  The message subsequently continues along this second neuron until the next synapse, and so on.  Here's a diagram of a typical neural synapse; you can ignore most of the labels: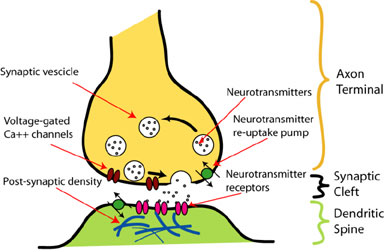 So the message travels down the yellow neuron, releasing neurotransmitters into the synaptic cleft.  On the other side, the green neuron has receptors (the red ovals) where the neurotransmitter bonds, thereby sending  a message which then travels down the green neuron to the next synapse, and so on.  After the message has been sent, the neurotransmitter is released from the receptor back into the synapse where one of two things occurs:  either another chemical agent, an enzyme, goes to work on the neurotransmitter and dissolves it, or the (yellow) neuron re-absorbs it for later use.
Dopamine and serotonin are two neurotransmitters that have been implicated in mental illness, dopamine for schizophrenia and serotonin for depression.   The low-serotonin theory of depression (which, as I discussed in Part One, has no basis in scientific fact) holds that depression results from low levels of serotonin within the brain — i.e., not enough of those serotonin molecules delivering the message across the synaptic cleft.   An insufficient amount of delivered serotonin messages theoretically makes you depressed.  By either increasing the amount of serotonin, or making the lower levels more effective, we will theoretically correct the chemical imbalance and alleviate your depression.
The drugs known as the "selective serotonin reuptake inhibitors" (SSRIs) (of which Prozac, Zoloft, Paxil, etc. are members) have been sold as correcting this imbalance by the second of those methods.  By preventing the first (yellow) neuron from re-absorbing serotonin and instead leaving it within the synapse, that neurotransmitter can continue to act as a chemical messenger and dock repeatedly with the post-synaptic (green) neuron.  So in theory, instead of having the "normal" amount of serotonin molecules acting only once and then being reabsorbed, you would have a lower-than-normal amount of serotonin molecules communicating more than once apiece.   If the brain needs, say, 100 serotonin messages sent, it theoretically makes no difference if you have 100 serotonin molecules each delivering one message, or 50 serotonin molecules delivering the message twice.  I hope that makes sense.
There is ample scientific evidence that SSRIs do exactly that, they interfere with the re-absorption of serotonin by the pre-synaptic (yellow) neuron, allowing the neurotransmitter to deliver its message repeatedly.  For about a third of the people who take an SSRI, this leads to a temporary improvement in depressive symptoms even though we know that they did not have reduced levels of serotonin (and this improvement is no better than for those individuals given a placebo).  On the contrary, there were normal levels of serotonin before the introduction of the drug, so an SSRI has the effect of boosting serotonin levels in the synapse to above-normal.
Because the body believes there is now too much serotonin, more than it needs, it disables some of those docking spots (receptors) on the post-synaptic (green) neuron because it doesn't need so many, thus reducing the number of serotonin messages it receives.  In other words, too much serotonin leads to fewer receptors for receiving the chemical message.  So not only do SSRIs introduce a chemical imbalance where none existed before, they cause the body to modify itself in order to address that imbalance.
What happens if you then remove the drug from the system?  As re-absorption levels revert to normal, Serotonin levels within the synapse drop dramatically, but you have fewer receptors to receive the messages.  This can be a psychological disaster, as many people will testify, and the body now needs those drugs in order to re-establish this new unnatural chemical "balance".  Paradoxically, this has convinced many physicians and patients that the drugs are "working":  after all, if you do much worse without the drugs, doesn't that mean they were having a beneficial effect?  The far more troubling answer is no, the drugs have altered your brain chemistry so that you experience withdrawal symtoms without them.  It's as if the pharmaceutical industry, in association with the American Psychiatric Association, has created a giant new group of drug addicts.
The way that the brain adapts to an artificially introduced chemical imbalance is the same for other classes of drugs:  the anti-psychotics, benzodiazepines, stimulants used to treat ADHD, etc.   It helps to explain why, despite what we hear over and over, that taking these miracle drugs restores balance to your brain chemistry (just as insulin addresses a chemical deficit in diabetes), mental health outcomes are worsening and disability due to mental illness is skyrocketing.
Whitaker does not argue that psychotropic medications have no place in the treatment of mental illness; he believes these drugs may be useful for stabilizing psychotic patients and in short-term use for other disorders.  But the widespread prescription of these drugs for long-term use has been an unmitigated disaster, for millions of individuals and for our country as a whole.
Given that some people appear to be helped by SSRIs, it seems likely that serotonin plays an unspecifiied role in depression; however, by preventing the re-absorption of serotonin, SSRIs affect every neuron within the body that uses it to send messages and therefore alter the entire neural system — hence all those nasty side effects.  As much as the APA and pharmaceutical industry would like to believe we've made great scientific strides and can now produce drugs that rectify specific chemical imbalances for specific mental disorders, thereby effecting a "cure", it's simply not true.
Finding Your Own Way:
There's a wealth of material in The Anatomy of an Epidemic, much more than I can do justice to.  Please read Whitaker's book.  If you're like me, the experience will be unforgettable.