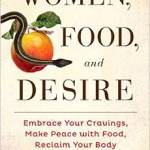 A while back, I wrote a post worrying over the difference between pride and narcissistic self-display. I've since made peace with this issue and feel comfortable expressing my feelings of pride in accomplishment, sharing my joy with friends and family members eager to rejoice along with me. I've also been helped by a recent example of another author who better demonstrates the true nature of narcissistic self-promotion.
I received a review copy of Alexandra Jamieson's new book Women, Food, and Desire, and read it with great interest. Advance word suggested it would touch upon food cravings as partly defensive in nature – that is, the ways we eat to avoid dealing with some unacknowledged psychic pain. I address the defensive use of eating in my own book, Why Do I Do That?, so Jamieson's book naturally appealed to me.
For the most part, I was not disappointed. Consider this passage: "When we let go of the food substances that we think we need, we come in direct contact with our feelings in ways that often, at first, may overwhelm us. And so I always prepare my clients for the release of deep emotions that usually occurs during a detox. I'll be honest: detox requires bravery because … letting go of anything we've grown to rely on for comfort is difficult." This view is very much in harmony with my own on the need for courage when we attempt to disarm our defenses.
But in many ways, Women, Food, and Desire is a strange read. About 95% of it is excellent: well written and full of thoughtful analysis backed by interesting and up-to-date science. Any woman who has struggled with weight issues and tried one unsuccessful diet after another should read this book. It interrupts the toxic self-hatred cycle of weight gain followed by self-deprivation, helping women to establish a healthier relationship with their bodies and with food. It is in many ways profound.
But now and then as you read along, you will come across a curious New Age-y passage about Ayurvedic principles and body types, and an unsubstantiated assertion that this "life-affirming system" is comprised of five "master elements": fire, water, earth, air, and space. Jamieson also tells us that these five elements "manifest in three primary energies, or doshas … [which] combine into three body and cravings types …" Blah blah blah. Or there's the description of Jamieson's pole-dancing lessons, which comes across as shallow and, well, narcissistic.
There's a very strange section about Jamieson's boyfriend Bob, who takes after Mr. Grey of the 50 shades. The first time they met, Bob "told me that he liked to play in the BDSM world (erotic practices that include bondage, dominance, role-playing – a whole host of yummy, fun, and titillating things.) He looked me straight in the eye as he told me this, and let me tell you … it was hot!" What has happened to our thoughtful, articulate guide? Rather than sane, sensitive, and wise, Jamieson here sounds like a teenager who is shallow and not terribly bright.
I ended the book feeling rather puzzled and moved on to the acknowledgements. Here's the first paragraph in full:
"First, I need to acknowledge the biggest inspirational rock stars for this book: my amazing clients and readers, who I counsel and coach through my website, Cravings Cleanse e-courses and mentoring programs. You are the brave ones who step into the gap between how diets have been done for too long, and what we all hope to fine: a truly beautiful and healthy relationship with our bodies and food. Your vulnerability and dedication to yourself and your desires is a gift: you call forth my inner healer, a fountain of creativity and inspiration. When I'm serving and offering you the new path to your big motivating desires, I'm alive, hopeful, and in love with the world."
The acknowledgement section is the place where you're supposed to thank the people who contributed to your book, to put the focus on the assistance they offered, but Jamieson makes everything about herself. She can't thank those "inspirational rock stars" without mentioning her website, e-courses, and mentoring programs (plug, plug). She calls her clients brave, but in the end, she says more about herself and her "inner healer, a fountain of creativity and inspiration." Then she ends by talking about her own joyful enthusiasm.
It could be that I'm misreading the sentence about that "fountain of creativity and inspiration." Maybe it's just badly written, and she's still referring to her clients as the source of inspiration. The style of this section, as well as those weird passages about BDSM and pole dancing, differ in style from the rest of this excellent book. It struck me that there were two different voices speaking, and as I continued reading through the acknowledgements, I finally understood why. Buried near the very end of this lengthy section (she thanks virtually everyone but the postman), almost as if she hoped no one would notice it, comes this sentence: "A heartfelt thanks to my editor and co-writer, Emily Heckman."
I googled Heckman and learned she has spent a lengthy career in publishing, working in-house and then as a freelance editor. She has co-authored some eight books, including the bestselling Olympia Dukakis autobiography on the cover of which she is named as co-author. Even though Heckman's name is not on the cover of WFD, I suspect she actually researched and wrote this book; the authoritative, articulate language probably speaks in her voice and the out-of-place bits occur when Jamieson inserts herself into Heckman's narrative. The more I learned about Jamieson, the more this view seems likely.
On Jamiesen's website, you can sign up to receive regular emails about special offers, all of which encourage the recipient to return to her website and buy something. One of these emails announced that Jamieson had been on The Today Show, so I watched the clip online and felt my dual-voice theory confirmed. Jamieson barely touched on any of the serious material in her book and ended up giving Hoda and Kathie Lee a lesson in hugging. I'm not kidding. Hug lessons from the woman who supposedly penned this serious book.
In a more recent email, Jamieson enthused about the "media mayhem" that had followed her appearance on The Today Show, claiming that folks are "still buzzing" about it. I am unable to detect any signs of this "media mayhem." Google the search term "Alex Jamieson Today Show" and the first two hits are for her own website. Who are all these people who are still buzzing? This is pure self-promotional hype, as the remainder of the email makes clear.
According to Jamieson, NBC felt her book was so "important" that they "wanted to get the word out about the new found research into what women crave, why they crave, and how to address those cravings and desires…
Especially when they can adversely affect our bodies, moods, our love life, and
the way we feel day in and day out.
I feel SO lucky for the opportunity to share all the wonderful news and findings!
And you'll be glad to know you can easily transform your cravings and empower yourself in just a few simple steps."
She then asks the recipient if she'd like to receive a "free" copy of WFD. If so, all she need do is click on the handy link and visit Jamieson's website where she can claim her "free" book, simply by signing up for a Rapid Refresh and Reboot workshop, normally a $297 value, for only $97! Such a deal! And this special workshop is normally available to Jamieson's consulting clients only. You're so lucky to be receiving this special offer!
Am I the only person out there who finds this kind of self-promotion repulsive? Nowadays, publishers expect authors to promote themselves and their books – I do it here on my website, we all have to do it – but this goes way beyond the normal promotional effort. Rather than a stand-alone book that deserves attention, WFD is Jamieson's marketing ploy designed to lure readers back to her website as customers for her other products. Oh, I forgot to mention that almost every chapter in WFD ends with a hyperlink and a come-on like this one:
"Watch Alex's EFT for Cravings' video and get mindfulness meditations to calm your mind and understand your cravings at: [url]"
If you're reading WFD in eBook form, you can click on the link, visit the site, and receive your free bonus … provided you sign-up for her email list so she can then proceed to market her products and services. It seems that Jamieson is merely exploiting WFD to build her mailing list and expand her marketing reach. Narcissistic self-promotion has become a part of our marketing culture, of course, and Jamieson does it extremely well. And she's relentless.
I expect I'll be in Jamieson's shoes come September, dealing with radio and TV appearances myself, and I'm not especially looking forward to it. Having to sell books these days calls for more narcissistic self-promotion than I think I can stomach. I understand that I, too, am supposed to be building my email list, getting ready to market and sell books, but it feels sleazy to make every communication a come-on. By contrast, I taped an interview on Friday for a documentary about shame being produced by the Canadian Broadcasting Corporation. It was serious, in-depth, and very satisfying because I got to explore my thoughts about shame and narcissism with someone truly interested and interesting. It was about the ideas themselves, not about selling.
Women, Food, and Desire is a very good book, despite what I have to say about Alexandra Jamieson. Here's my advice: read the book, ignore the hype, keep your email address a secret, and say a silent thank you to Emily Heckman.