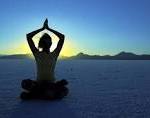 Due to chronic lower back pain, caused mostly by spending too much time seated at my desk and staring at a computer screen, I decided to enroll in a four-week yoga workshop designed for people with similar issues. Like many of you, I've spent lots of time attending group physical fitness classes of different kinds over the course of my life. Though I don't overtly show it, I become highly competitive when I find myself in such groups. Even before I attended the first class, I was wondering if I would feel the same way in yoga, to which I am a newcomer.
One would think that yoga, with its spiritual dimension and a focus on peaceful relaxation, wouldn't be a competitive arena, but my daughter (who has a regular yoga practice) assures me otherwise. The competition hides behind a veneer of "loving kindness," she tells me. As my first class unfolded, I didn't feel particularly competitive, but I did watch with amusement as familiar thoughts with a lifelong history bubbled up in my mind.
The teacher probably thinks I'm doing a good job with that stretch.
The teacher gave me a correction – that must mean she noticed me.
The teacher can see I've had experience working with my body, even if I'm a beginner in yoga.

One of the advantages of being (almost) 60 is knowing oneself well. I've had a life-long issue with teachers, and wanting to be singled out, the residue of a childhood where praise and recognition from my teachers made up for what I lacked at home, where being viewed as excellent helped me ward off the core shame I felt. During that first class, without any surprise, I noticed these thoughts passing through my mind, understood what they meant, and let them go of them. I like to tell my clients that this is what "after psychotherapy" looks like: old parts of you don't disappear, but they no longer control your behavior in the same way. Mindful self-awareness allows you to make better choices about what you say and do. Usually.
Similar teacher-related thoughts made brief appearances during the second weekly session. After it was over, I went up to ask the teacher which of the other classes on the course schedule would be helpful to me, given that hers was not an ongoing class. We chatted briefly. I told her how much relief the first class had given me. Then I revealed some personal information I had no reason to disclose. In the end, she offered to teach me and a smaller group of students at her private studio after the workshop was over.
Driving home in my car, I felt troubled by that exchange. Though I laughed at myself for "wanting the teacher's attention" (we're talking about a young woman half my age!), I could not shake a feeling of discomfort. I couldn't let go of the conversation though I tried to laugh it off. I've had this experience often enough to know what it meant: shame. Memory of the unnecessary self-disclosure brought some heat to my face. My thoughts felt mildly disordered. I wondered if I had come across as narcissistic.
This was a very mild form of an experience I described in my earlier post about shame attacks. (And I do want to stress the word mild. It was a subtle experience, one I might easily have overlooked.And please don't submit a comment telling me that I'm "too hard" on myself!) After that second yoga class, feeling discomfort, I forced myself not to turn away. I entered into the shame and eventually understood what had happened and why. My desire for attention from the teacher had definitely taken a (mildly) narcissistic turn. After a time, I felt the shame pass away. Rather than feeling bad, I felt more compassionate toward myself. Old emotional scars have a way of lingering, long after the wounds of childhood have "healed."
Again, this is what "after psychotherapy" looks like. Shame is an inevitable part of life, especially for people like me who grew up in a dysfunctional family with a narcissistic mother, and it's the defenses against it that cause the most trouble, not the shame itself. In the end, I felt good about myself for enduring the shame and not turning away. I feel mildly embarrassed to write about it here but also proud that I have an ability to understand and honestly describe. This, I believe, is the difference between narcissism and authentic self-esteem.
In a similar vein, I've been struggling with my feelings about having received the final edits to my manuscript and completed the revisions. I find myself wanting to voice the pride feel about my editor's feedback (she called the book "magnificent" … thank you, teacher) and asked for minimal changes. Each time I've shared this information with friends (three times), I've felt some self-doubt. Am I being narcissistic, or sharing an accomplishment about which I feel great pride? Is it always narcissistic, to draw attention to your achievements?
Lately, I've been feeling proud of my psychotherapy work, too. My affection for my clients grows deeper. My empathic connection grows stronger. I feel that I am being truly helpful. Is it narcissistic to say so? And why do I even feel the need to say it aloud? I've only said it twice, but each time, I've made note and wondered about it. I didn't have a shame reaction but I didn't feel entirely comfortable, either. What, after all, can other people say? "Congratulations! That's great!" It's not exactly a conversation starter.
Maybe another legacy of a childhood like mine is this ongoing uncertainty, an inability to completely "relax into" one's pride. Sigh.
To the best of my knowledge, I'm not asking for praise or congratulations. I'm trying to describe an experience that I think may resonate for many of you who have also struggled with shame and self-esteem. Let's have a conversation about that!