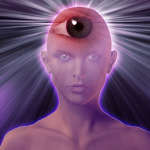 While working on an article about virtual psychotherapy for The Atlantic, I began to think about the role of intuition in the work we therapists do: how it functions and what enables us to understand the way a client is feeling without being told. In part, we're responding to visual cues. Even when clients are silent, we may "pick up" on their feeling states by reading their facial expressions and body language, often without knowing that we're doing it. When I first began working by Skype, I was relieved to find that my intuition continued to function via video camera and screen.
Another word for intuition in this case would be empathy. When I work by Skype, I'm able to empathize with clients who may be thousands of miles away, thanks to a high definition picture that allows me to absorb the non-verbal cues contained in their posture and facial expressions. But might there something else involved? Is it possible – bear with me! – that a kind of extra-sensory perception is at work?
Back in Los Angeles when I used to practice in person, many of my clients would lie down on the couch for their sessions. From time to time, I would have intuitive experiences I couldn't explain, at least not in any rigorous scientific way. More than once, a client came into my office, settled onto the couch, and fell silent; within seconds, a feeling of profound sadness began to come over me. When I asked my client what he or she was feeling, the answer was "Really sad" or "Like crying." With other silent clients, I sometimes felt anxious or numb, even angry. More often than not, when I checked in with my client, I'd find that we were feeling the same way.
Given that I had no facial expressions to interpret, how did I pick up on these emotions? At the risk of sounding a little woo-woo, I've long accepted that some kind of ESP was at work, that humans possess a capacity (call it a sixth sense) to read thoughts and feelings in other people without relying solely on our ears or eyes. Lately, I've begun to wonder if this sixth sense might even function across long distances – say, with a client who lives in a different country.
Within the last few weeks, I've heard myself more than once talking about a feeling state that, on the surface, had nothing to do with what my client had been saying immediately beforehand. Though surprised, my clients felt understood by my comments and validated them. Was I "resonating" with subtle, unconscious aspects of my client's communication? Probably … but how did that occur? I can't explain it. I'm certain that most good therapists who enjoy their work have similar experiences. We just don't talk about them because we might sound, well, unprofessional.
I'm a skeptic when it comes to most accounts of supernatural phenomena, but I've had too many of these ESP experiences to doubt their reality. I've heard convincing tales from other people, as well. My good friend Michael, a horse trainer whose truthfulness I do not doubt, tells two stories about his experience with an "animal psychic" he never actually met. Another trainer gave Michael a phone number to call when he couldn't resolve a physical problem with one of his horses. In desperation, when Michael finally overcame his skepticism and called, the psychic explained in testy detail how he was to be paid – by cash sent via snail mail – and then proceeded to tell my friend what to do … without asking for any information, not even the type of animal in question.
"You have a horse," the psychic said, "and the problem is in his feed."
It turns out that the barn where Michael boarded his horse had recently changed feed and the horse was allergic to something in the hay. After he switched feeds, the problem disappeared. How did the psychic know that the problem was food-related?
Another story involved a horse that could jump the moon in training but always failed miserably in the show ring. Michael again called the same psychic, explained nothing about the problem, and was told that the horse didn't like his name! The owner's son, a fan of The Simpsons, had chosen "Cowabunga," and of course this name was piped over the loudspeakers whenever the horse entered the ring. They changed the horse's name and he began winning.
I'm sure there are readers out there rolling their eyes with skepticism, and I don't blame you. These are second-hand accounts and there is no way to prove or disprove them. But you hang around long enough on this planet and you can't help believing that some of them must be true.
I have nothing profound to add here. I can't explain how and why such ESP functions, but there have been many scientific mysteries throughout history that were finally explained once technology took another leap forward. We have no way to measure telepathy or "thought transmission," but I suspect it's only a matter of time before we'll be able to do so.
Feel free to share your own accounts of inexplicable communications!
Sunsprite Update:
I completed my week's trial with the Sunsprite and was dismayed to find out how hard it is to get enough sunlight every day. Weekends posed no problem because I was often out of doors, despite the cold weather, but I only reached my quota twice during the work week. I think I may have to spring for one of those light-boxes.
As for the Sunsprite itself, it's a fun little gadget but I'm not sure it's worth $99 to find out whether you're getting enough sunlight. After a week, I had a pretty clear idea how much time I needed to spend out-of-doors, so why continue using it? I think that the half-an-hour rule of thumb pretty much covers it and doesn't cost a dime.