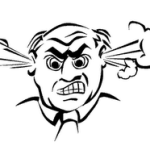 Nearly four years ago, not long after I first launched this site, I wrote about a client who coped with unbearable feelings via her eating disorder: when she could no longer endure a painful emotional state, she would binge and then purge in an attempt to evacuate it. I discussed this as a form of projection, an unconscious defense mechanism used when psychic pain cannot be tolerated and understood — that is, when it is simply "too much" and the person feels overwhelmed. This process begins during the earliest moments of life, when the infant "screams out" unendurable pain and fear. As I described in this early post, it is the mother's job to absorb, understand, and respond appropriately to the meaning to the projection.
The evacuation of emotional pain takes many forms. One of my current clients often cries when he feels overwhelmed. When I first started working with Liam, I viewed his tears as sentimental, a form of self-deception where he would weep and feel sorry for himself rather than acknowledge his own anger. During arguments with his wife, for example, he would break down sobbing as their conflict intensified. She usually felt annoyed rather than sympathetic in the face of his tears, especially if he abruptly ended the argument and went to bed, leaving her to carry all the anger.

Liam has recently made some good progress in recognizing just how angry he feels, but we have also come to understand his tears as a form pressure release. In his family of origin, the expression of strong feeling was discouraged and he never learned how to bear with and understand his own emotions; he is easily overwhelmed and often cries as a means of relief from the emotional pressure, "sobbing it out," so to speak, without fully understand what he is feeling. Other members of his family have severely repressed their feelings so they come across as flat and unemotional; they feel too little while Liam often feels too much.
Tears aren't necessarily a form of evacuation. They may express grief or sadness as an integral part of those emotions. And consider the terms tears of rage and tears of joy. Almost any strong emotion can stimulate the lachrymal glands. Tears seem to be an organic part of intense experience, especially when it involves an element of surprise, when we're psychologically unprepared for the onset of strong feeling. For me, I sometimes feel intense emotion building up from below and forcing itself out through my eyes. It isn't always an unpleasant experience and sometimes it feels good to cry. I suspect most people feel this way.
For many of us, shedding tears also brings a kind of relief, and this isn't necessarily a defense mechanism — at least, not an unhealthy one. Only when it becomes chronic or a means to avoid conscious experience does it become a problem. Liam usually cries to get rid of feeling rather than to express it, mostly because he feels under such intense psychic pressure. The image above shows an angry character with steam coming out of his ears: like a pressure cooker, he is so full of anger that he needs to "let off steam" to discharge part of the psychic burden, or else he will explode. In such cases, a person seeks for a way to evacuate and rid himself of at least a part of his rage. For Liam, tears provide such relief.
Another client cuts herself in order to evacuate emotional pain. Suzanne's blood-letting is akin to Liam's shedding of tears, although it involves a much more serious health risk, of course. Suzanne has described the relief she feels as she watches drops of blood fall into bath water, as if the gradual dispersal of that vivid red also "disappears" her feelings. (Those of you who have read my Cinderella will recognize this dynamic in her cutting.) Self-injury is a complex psychological process involving more than mere relief, however. Like Liam, Suzanne also finds it difficult to consciously acknowledge anger. Cutting not only affords her relief from unbearable emotion through blood-letting but also allows her to express her (unconscious) rage in an act of violence against her own body.
Some of my clients who struggle with borderline issues have screamed at me during session or over the phone, so overcome with pain and rage they couldn't bear it; they "unloaded" on me to find relief. This kind of emotional assault feels more like an evacuation than a communication. They wanted to put their distress into me rather than experience it inside of themselves. In a less dramatic way, you may have experienced this dynamic with friends who dump all their problems on you and never ask a single question, a phenomenon I described in an earlier post as the toilet function of friendship. At the end of the day, the evacuation of pain (rather than bearing with, understanding and communicating it) seems to be very common.