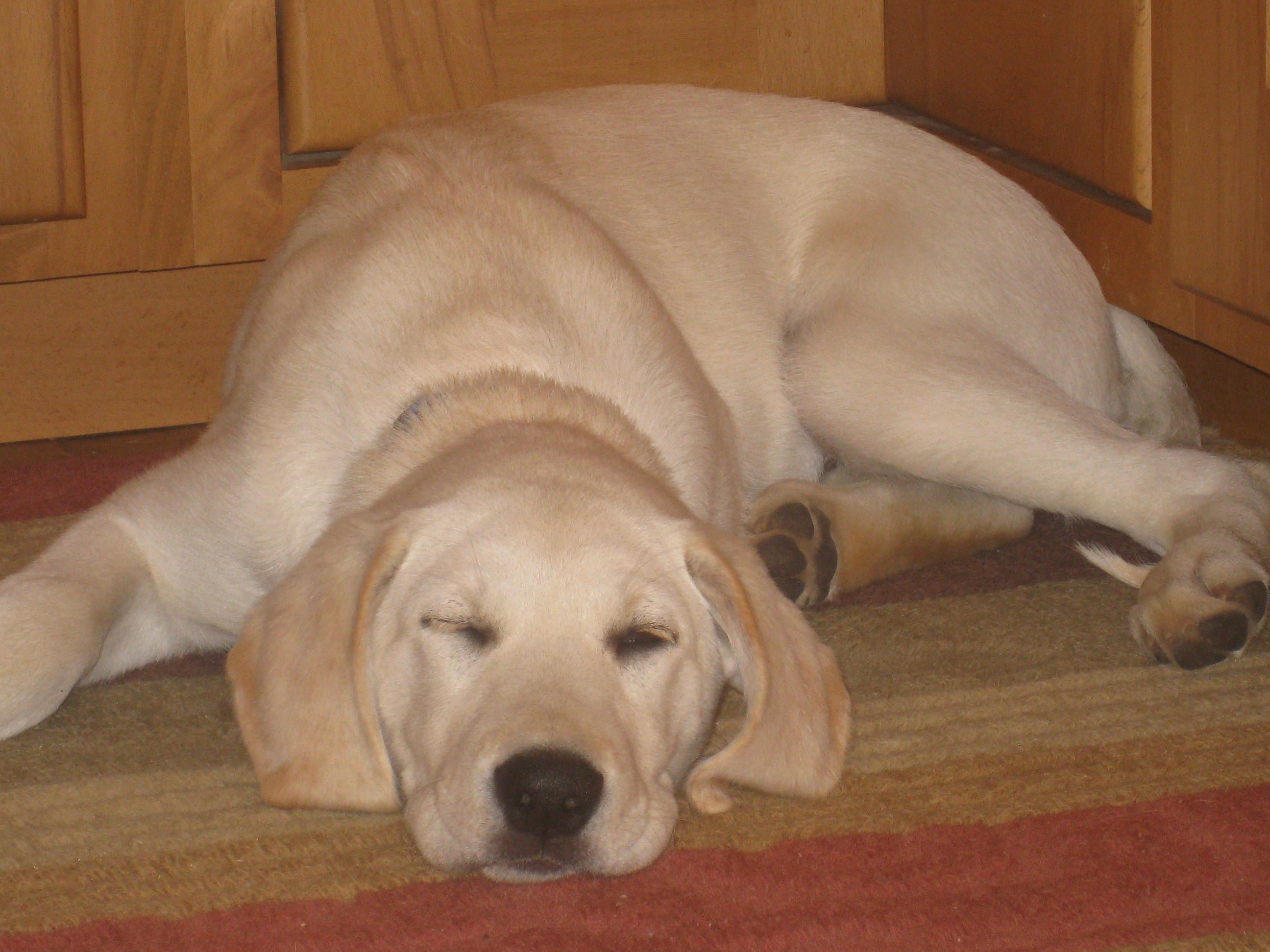 Meet Alice, the latest addition to our family.  We picked her up from the breeder when she was only eight weeks and now she's almost three months old.  After Maddy died (see my post about grief and the grieving process), we decided not to get another dog until the fall; but some members of the family found the grief and loss so painful that we began looking around for a new pet earlier than planned.  A couple of rescue dogs fell through, then we found an ad for a litter of white labs from a breeder two hours away; five days later, we were driving home with little Alice.
The experience of having another small creature to take care of — the joys as well as the sacrifice involved — has taken me back to those times when my kids were very small.  In particular, it has reminded me of the sleep deprivation:  for the first several weeks, Alice was waking up a 4:30 a.m.  I'm an early riser but that hour is extreme, even for me.  Though she sleeps later now, the early morning demands have cut into my personal time and I've been feeling a tad resentful.   Taking on Alice has by and large meant giving up hiking this summer, because you can't leave a puppy alone for too long.  I think she's adorable but I would rather have waited until the fall to get another dog.  I'm tired a lot of the time, trying hard not to to be too grouchy, struggling to make peace with this personal sacrifice for the family good.

So I'm remembering those times before the kids were sleeping through the night — how completely infatuated we were with each baby despite the sleep deprivation, totally enchanted by every developmental milestone but feeling like zombies, conducting our lives in a twilight state of semi-consciousness … and I wasn't even doing the breast-feeding!  During that period, I had several clients who were pregnant and then gave birth.  With all the mothers, I heard similar stories and identified a dynamic they had in common.  The scenario goes something like this (although the variations are many):
It's the middle of the night and the mother is awake, breasting-feeding her baby and feeling a kind of bliss at the intimate contact.  She's feeling good about herself as a mother, too, because she's so willing to sacrifice her sleep in order to give the baby what it needs.  It doesn't matter if she's ready to collapse and that tomorrow will be hell; right now, she adores her baby and can think of no higher, more selfless love than what she feels for it.  Sated, the baby finally goes back to sleep and the mother stumbles half-blind to the master bedroom.  At the sight of her husband, slumbering away in bed, anger surges through her whole body.   It might be resentment that he gets to sleep and she doesn't … even though she told him it made no sense for them both to get up when she alone can do the breast-
feeding, even though she magnanimously turned down his offer to bottle-feed with expressed milk.  Maybe she becomes enraged because of some chore he was supposed to do but forgot about. At that moment, she could murder him.
You'd be surprised how often I heard some version of that story.  I came to understand it as a kind of splitting, where the mother protects her baby from the hostility and resentment she feels by preserving her love for that baby and re-directing all the hostility toward her husband (which is not to say that there are no legitimate grounds for resenting one's husband!).  In our culture — in most cultures, I imagine — for mothers to feel hostile toward their infants is an unacceptable emotion.  (Even now, I'm aware of soft-pedaling this idea by writing "feeling hostile toward" instead of "hating" your baby.  How can a mother hate her own baby??!!!)  By splitting off those hostile feelings and directing them toward her husband, she avoids the socially unacceptable emotions, and quite possibly the guilt she would experience if she recognized all the ways she actually feels.  The love she feels is real but so is the hostility; it's not one or the other.
It's part of the father's job to absorb all that resentment, to act as a psychological support for the mother-infant pair and serve as an emotional outlet for emotions too powerful for the mother to experience in that vulnerable context.  Of course, no one tells dad that this is part of his job description; he may feel bewildered and treated unjustly when a blast of resentment suddenly comes his way.  He may already be feeling left out, neglected and even jealous.  As anyone with children knows, this is an incredibly challenging time in a marriage for everyone concerned.
When I was writing my dissertation, I came across an article by Donald Winnicott in which he discusses the lullaby, Rock-a-bye Baby.  In the unlikely event you've forgotten the lyrics to that song, here's the first verse:
Rock-a-bye baby in the tree-top
When the wind blows, the cradle will rock
When the bough breaks, the cradle will fall
And down will come baby, cradle and all
Okay, so here's a charming little song that describes a baby slumbering innocently in its treetop cradle; the branch holding the cradle then snaps in high winds and the baby goes crashing down to the ground and probably dies upon impact.  Isn't that sweet?  Winnicott said the lullaby wasn't sentimental.  He said that sentimentality is of no use to parents because it contains a denial of their hostility, whereas Rock-a-bye Baby offers an unconscious outlet for that resentment by disguising it in the form of a lullaby.  I suppose if we're going to be entirely honest, we'd say that this sweet lullaby disguises a murderous impulse, the desire to kill the baby that interferes with your sleep, demands constant attention, takes and takes and takes and gives nothing back for a very long time. Isn't that adorable?
In my practice, I found that addressing those feelings gave my client-mothers a sense of relief. By acknowledging the extent of the deprivation, by recognizing that hostility and resentment under such circumsstances made sense, they could accept occasional hatred  without feeling guilty or afraid of the emotion's power.
As for me and the new dog, I really do think she's adorable, and one of the smartest, sweetest, best-behaved dogs I've ever met.  I'm not conscious of any feelings of hostility toward her, but I suspect they're there, split-off somewhere, waiting to express themselves.