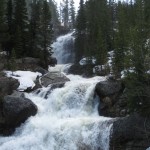 Over the long holiday weekend, we drove cross-country to Colorado where we re-locate for the summer. Although the drive can be grueling (about 26 hours over two days) and it sometimes seems as if Kansas will never come to an end, I enjoy certain aspects of this annual trip. In particular, I relish the wealth of time for thinking. We drive in shifts, but even when I'm behind the wheel, it doesn't take much concentration to keep the car on a straight line across the plains. While on the road, I mapped out virtually the entire sequence of events in my next fairy tale novella, Snow White at the Dwarf Colony. During those long quiet hours (you can only make so much conversation when you're constantly together), I reflected on a great many other things as well, including maternal vs paternal function, and differences between my work as a psychotherapist when I first began versus the nature of my practice today.
I saw my first client in the counseling center at my school when I was 26 years old, looking a bit younger than my actual age. While many of my clients idealized me, or saw me as having it all together, I don't think any of them viewed me as a father figure. My training taught me to focus much more on the maternal transference, so I may simply have overlooked it; after all, transference feelings are often immune to reality and as far as the timeless unconscious is concerned, my actual age would have been irrelevant. Still, I don't think I inspired a father transference in many of them, nor did I have particularly strong countertransference feelings (in the broad sense) of a fatherly nature. Of course I felt concerned about them, but not in a particularly paternal way. At that time, my clients tended to be roughly my own age or younger, and that may have played a part in it.
I'm 58 now, and I find that I often feel quite paternal toward my clients, partly influenced no doubt by being a father of three. I believe that both men and women can be paternal; when I use the word, I refer more to function than to actual gender. From my point of view, maternal function is about feeding and nurturing: helping a child to feel safe in the world, to tolerate need and dependency, to learn to master one's emotions. "Mothers" help us develop core self-esteem and teach us about intimate relationships. Paternal function relates more to the world-at-large; it encourages personal responsibility and prepares one to compete outside the family. "Fathers" also build self-esteem through encouragement and support, but at the same time, they embody a different set of standards and demands related to the outside world. "Fathers" help us to face and accept the often painful limitations of "real life," to respect social mores and the rule of law.
These are very broad generalizations, of course, and to repeat: when I discuss maternal vs paternal qualities, I'm referring more to function than actual genders. Many fathers can be quite maternal; many mothers do very well in the paternal roles I describe.
I currently have a number of young adults in my practice, men and women in their 20s and early 30s. Relationship issues come up in our work, of course: the difficulties of bearing vulnerability/shame as they let themselves be truly seen by another person in order to develop intimacy. But much of our work focuses on the big question: "What am I going to do with my life?" Several of them are college graduates, gainfully employed but not particularly satisfied with the work they do. As they look ahead to a lifetime of employment, they feel dismayed by the prospect; they have a hard time envisioning a line of work that wouldn't feel like a kind of entrapment. One of these young men would like to quit his job and travel the world "before it's too late." Another is continually wanting to attend graduate school in another country; to me, his urge feels like flight because he's not moving toward any place or career but rather away from his present life. Anywhere but here.
When I listen to them talk, I am often reminded of similar things I said during the early years of my own therapy. I had virtually no guidance from my parents concerning education, training or career. After I finished my undergraduate work, I didn't know what to do with my life, how to make a meaningful living and so support myself; I didn't even know what was possible for me. I'd always wanted to write novels and felt angry that even selling a novel at age 23 didn't earn me enough to support myself. I felt entitled, expecting that the writing life I wanted should be given to me now. I emotionally rebelled against the limitations inherent in adulthood: that one must leave childhood behind and take care of oneself, which means earning enough money to pay one's bills. My therapist was very clear about this issue and never felt sorry for me. With a firm but kind hand, he would interpret my sense of entitlement and describe the reality I didn't want to face, what I needed to do to survive. He never treated me like a child, as much as I wanted him to take care of me. (He actually expected me to pay for my sessions!) He would stress that I needed to investigate different career possibilities; he would gently suggest that perhaps more education would be needed. He was a good father to me.
I empathize with my client who wants to travel the world. I don't believe he feels entitled as I did, but I think he's confused about his future, struggling a bit with the restrictions inherent in adult life, and not particularly fulfilled by his job. I also empathize because I believe he has a creative nature, dislikes the realm of high-testosterone competition and would value some adventure in his life. I can't be certain, but I doubt that quitting his job and traveling for six months is the answer; I think he needs to devote his energies to sorting a career path. I try not to squelch his adventurous spirit but I do point out some of the unfortunate facts about adult life, the ones my own therapist pointed out to me. I'm concerned about my client's future, how he will support himself and contribute to a family if he one day marries and has children. I know that choices he makes today will affect the course of his entire life. These feelings echo the concerns I have about my own children. I definitely feel fatherly toward this client.
Another client, a young woman with a high-profile, demanding career also inspires paternal feelings in me. She's fortunate in having found a career she loves, but fights the level of commitment needed to be successful in it. She often would prefer to socialize when she knows she needs to put in extra hours; immediate gratification versus long-term benefit is a frequent topic in our sessions. At times, I can feel that she wants me to sympathize with her desire to have fun rather than work hard. Instead, I point out that she herself has decided what she wants and there is only one way to get there: hard work and commitment. Sometimes, she'll try to evade responsibility, wondering whether she really does want to succeed in her line of work; maybe she should pick something less demanding and enjoy life more. Neither of us is fooled by that dodge and I never feel sorry for her. As a good father, I've been helping her to develop the self-discipline and work habits she needs to achieve her goals.
I'm not suggesting that fathers have a monopoly on this kind of feeling; most mothers I know have similar concerns about their children. But to me, a large part of paternal function is offering encouragement while helping our children to face and accept the limitations inherent in the adult world. Paternal function involves guiding our sons, daughters (and clients) in their career paths and important life-choices, helping them to understand and fulfill their resonsibilities as adults. Paternal function stands in for rule of law and social values; it makes demands rather than addressing needs. Maternal function wants to ensure that children get what they need while residing in the family nest; paternal function offers support and guidance as those children prepare to leave the nest and make their way in the world.
Of course there's much more to maternal and paternal functions than this, but it's what happens to me on my mind this week. My oldest child graduates from college on June 14th, beginning his first "real" job in Chicago on July 8. My second son will be interning and living on his own this summer in Paris. Both boys, young men really, have launched upon their careers and I'm concerned that their mother and I have equipped them to handle the responsibilities inherent in the adult life awaiting them.
P.S. — The above photo captures one of my favorite early hikes: Cascade Falls above Monarch Lake. This past winter was heavy on snow and the creek is sure to be wild tomorrow when we take our first hike of the season.