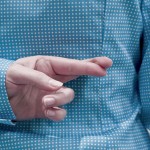 During several recent sessions, one of my clients has been struggling to make an important decision in her life that's causing her considerable anguish — whether or not to leave her husband. I don't normally give advice in such cases, but based on my lengthy relationship with this client, I strongly believe that she ought to stay for the time being and have told her so. Her doubts about what to do have continued to resurface and I've repeated my point of view whenever I thought it appropriate and helpful.
Over the weekend, I received an email from this client; she acknowledged feeling somewhat "paranoid" and wanted to touch base with me about her thought process. Her intuition told her that, in truth, I thought she ought to leave her husband but felt it would be "unprofessional" for me to tell her so. She worried that her decision to stay was foolish, that she was closing her eyes to the depth of her husband's emotional difficulties; she feared that by staying, she was setting herself up for even greater heartbreak down the line. She felt certain that I believed the same thing but couldn't bring myself to tell her so.
In our next session, I pointed out to her that, if what she believed was true, I would have been actively lying to her when I told her she ought to stay with her husband for the time being. It's one thing to keep my opinion to myself; quite another to give voice to the very opposite of what I truly believe. Did she believe I was actually lying to her? I asked. When she thought about it in those terms, she decided I couldn't be lying.
I won't go into the complex issues surrounding her doubts and suspicions; I bring up this client in order to raise some interesting questions.
Do therapists ever lie to their clients?
Is it ever appropriate or clinically useful to do so?
Is there a difference between a lie of omission and a deliberate falsehood?
In thinking back over my years in practice, I can identify several instances where I lied to my clients, all of them involving shame or feelings of embarrassment. These were lies of omission. In my early years as a therapist, if a client accurately observed that I looked sleepy or stressed, rather than acknowledging the truth, I'd usually address their anxiety concerning what they perceived about my health or state of mind. In one sense, this is a perfectly valid therapeutic approach because it is the client's feelings, after all, that are the focus of the work. On the other hand, such interpretations can subtly imply that what the client accurately perceives is "only" a projection; sometimes, it can feel crazy-making, not to have your perceptions validated. Nowadays, I'd validate the perception first, then go on to explore what it felt like to depend upon an exhausted or stressed-out therapist. It feels to me like a subtle but important distinction.
By contrast, I remember falling asleep during one phone session a number of years ago, my first day back from work following a trip abroad. I was still jet-lagged and hadn't yet adjusted to the time zone. When my client heard the silence over the line, she thought we'd been disconnected or that there was some trouble with my phone line, and finally hung up. When she called back and couldn't get through, she eventually reached me on my emergency line. I felt terribly embarrassed for not respecting my limits and giving myself more time to recover before going back to work. I vividly remember the temptation to lie, to tell my client that yes, I'd been experiencing difficulties with the phone line. Instead, I admitted the truth, apologized and felt ashamed.
In those earlier instances, I was hiding behind the so-called blank screen in order to avoid acknowledging something embarrassing or distressing. I'm not the only psychotherapist who makes use of the analytic posture as a defensive maneuver to evade pain. In fact, it's a fairly common professional defense mechanism, though most of the time it remains unconscious. Especially if we feel a private shame about our marriage or our sex life or the emotional difficulties of our children, it's easy to take unconscious refuge in our clients' idealization of us. We can take comfort in those transference feelings, using them as a kind of lie to avoid our own shame.
As I make clear in my my book about defense mechanisms, all defenses are essentially lies we tell ourselves to evade pain. The type of defense I've discussed so far is a lie of omission. In my view, such lies are not uncommon. How harmful are they? If truth is to the mind as food is to the body, then such lies must take their toll. To some degree, they will limit the growth of both client and therapist. I suspect that, to the extent therapists are hiding from shame behind their clients' idealizations, it's probably worse for the therapist than the client.
What about deliberate falsehoods? I can't remember any instances when I consciously and intentionally lied to a client, but it's possible I may have forgotten. To me, this type of lying seems much more serious. It undermines the integrity of the therapist. It corrupts the entire therapeutic process which is, after all, devoted to uncovering the truth no matter what. To my mind, it is never clinically useful to lie to a client. I can't think of a single instance where it would help a client to be told a falsehood. I can imagine an argument that resembles the rationale sometimes given for concealing the truth from a person dying of cancer; I've never accepted that rationale and don't believe I'd find it any more convincing when applied to a client in therapy.
Because we therapists all have our painful issues and areas of shame, along with defense mechanisms to protect ourselves from them, it's inevitable that we will commit unconscious (and sometimes barely conscious) lies of omission. We're only human. But when we tell deliberate falsehoods, we betray our profession and undermine the very nature of the work we do.
What about you therapists? Can you think of any instances where you told a lie to a client, either directly or by omission?
What about those of you in therapy? Have you ever caught your therapist lying to you? How did it make you feel?
Photo credit: kygp / Foter.com / CC BY-NC-ND