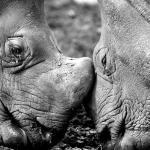 One day many years ago, my friend Ann told me she had scheduled an appointment with a surgeon to discuss whether to undergo a hip replacement. She and her doctor would be evaluating the results of x-rays and a recent MRI. As a candidate for this type of surgery, Ann was young, in her late 30s, but she was in more-or-less constant pain as a result of a car accident many years earlier when her hip joint had been shattered. She walked with a limp. When she told me about the upcoming appointment, Ann seemed quite apprehensive. I knew she was preoccupied with her decision, whether or not to go under the knife.
I fixed the date of Ann's appointment in my memory and recalled it from time to time as the day approached. Throughout the day itself, I kept her in mind then called that evening to find out the results. She had decided to have the surgery, she told me. We talked at length about what the surgeon had said, the nature of the operation, and how much relief she could expect. A few days later, she left a message on my answering machine: "Know who else called to ask about my surgery? No one." Besides family members, not one of her other friends had reached out to her. She seemed grateful that I had kept her in mind.
It has recently become clear to me, although I suppose I've known it for years, that this is my idea of friendship. A friend holds you in mind, keeps track of the events in your life without reading about them on your Facebook status, has an emotional investment in your future. It may seem obvious, but a friend thinks about you when you're not there. He wants to know what happened at that job interview. She wonders how the date with your new flame went. Friends follow the events of your life with at least as much interest as they devote to the latest season of Homeland or House of Cards.
In my personal experience, this type of friendship is rare. After working with clients for many years, I've learned that most people have few true friends by my definition. This reality doesn't seem to have struck most of my younger clients, at a stage in their lives when they are continually meeting new people through their careers or an expansive social life. New friendships form quickly and easily. Because they go to clubs and parties with the same people, or regularly have drinks with colleagues from work, it may seem as if they have many friends. Judging from what I read on his Facebook page, my 20-year-old son Paul has hundreds of them.
Marriage and parenthood take a toll on friendship; they demand so much mental space that they leave little room for keeping other people in mind. As we get older, the list of true friends gets shorter. After she moved to Seattle, Ann and I used to have a standing weekly appointment to catch up by phone. Then she filled that hour with a client. With three small children and a practice, I had precious little time for nurturing friendships. Ann and I talk infrequently now and keep in touch mostly by email. True friendship takes effort and we don't always take the time.
In our 30s, we often strike up friendships with other couples that have children similar in age to our own, but once those children are grown, the friendships don't always survive. We recently had dinner with a couple we know, David and Caroline, whose children have all gone off to college now. Earlier this year, they sold the family home and moved to a different part of town. Caroline said, "We looked up and wondered, what happened to all our friends?" Who keeps David and Caroline in mind? Who calls to ask about the new house and their adjustment to a new neighborhood? Like mine, their list of true friends is short.
My middle-aged clients seem more keenly aware of this reality than my younger ones. Over two or three decades of adulthood, friendships come and go; we learn that most people don't make the consistent investment of interest and energy that true intimacy demands, not necessarily because they're selfish or shallow but often because career and family take up so much mental space. Lee, a former friend of mine, sent me a poignant letter several years ago, asking why I hadn't kept in touch when I moved away from Los Angeles. "I spent my 20s and 30s forming lots of friendships," he wrote, "and then spent my 40s losing them." Lee had so many "friends" that I felt I didn't matter very much to him; after all, just how intimate can you be with 50 or 60 people? I tried to explain this to him but I don't think he truly understood.
Over the last ten years, we've been especially close with another couple around our age. Of late, one of them has been confronting some serious medical issues and flew out to Arizona to consult with a specialist. At the time of her appointment, I sent her a text: Thinking of you. While I was in New York last week, the four of us kept sending updates back and forth. Back home on Sunday, we went to look at a townhouse for sale because they wanted our opinion about whether to buy it. Each summer when we're in Colorado, the four of us keep in touch with bi-weekly Skype chats. Without fail. I put this couple on my very short list of true friends.
I've lately grown closer with someone I've known for ten years or so. Writer, freelance book consultant, and former acquisitions editor, Emily takes an interest in my writing career. She sends me regular texts, wanting to know about my latest submission. Last week when I was in New York, meeting with the team at Touchstone, I know she kept me in mind because I received her emails. Yesterday on the phone, we talked about my trip and caught up on her current projects, too. I'm invested in her career and like to keep up with the negotiations over her new book, her most recent freelance editorial gig, etc. As writers, we offer each other mutual support, but we also like each other. It feels like we're becoming friends.
And that, as my life has taught me, is a rare and precious thing.