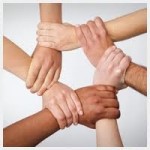 Last weekend, our friend and next-door neighbor Gayle invited us to go with her to hear some live music at a local venue here in Grand Lake. We arrived after the band had already started its set and we sat down at a table with some of Gayle's other friends — two retired couples we'd never met. Elaine, one of the women, sat at my left. After the band had played a few more songs, she started up a conversation.
It began, as many such conversations do, with questions like "Do you live here in Grand Lake?" and "Where are you from?" I naturally reciprocated. I learned that Elaine and her husband spent most of their year in Louisiana, after relocating from their native Florida to be closer to their son and grandchildren. When I asked how she liked living in Louisiana, a pained expression came over her face. In both Florida and Grand Lake, Elaine told me, she had found a sense of community through her churches, but hadn't managed to do so in Louisiana. The congregations there were of the "holy roller" type and she felt out of sympathy with them.

She seemed quite anguished by her feeling that she did not belong, and we talked at length about it, in part because I so related to her experience. Not that I feel that way now, but at this juncture in my life, I'm very much afraid of feeling that way in the not-too-distant future. My daughter Emma will graduate from high school next year; when she leaves for college, we will leave Chapel Hill and move away from the South … but to where? I've always felt puzzled by those people who retire and move to some distant state where they don't know anyone. I'm not retiring, but if we move somewhere else, how will we meet other people and develop a sense of community?
There are aspects of life in Chapel Hill that I've enjoyed these past 15 years, and in many ways, I feel that I belong — to my writers group, to my small circle of close friends — but I don't want to stay in the increasingly conservative South. After small town life, I'm also longing for a more urban experience. I can't afford to live in New York or London (lifelong dreams) and besides, as a writer/therapist in private practice, how would I meet people? When we moved to Chapel Hill, we instantly made friends through our children — other parents we met at school and sporting events. Now that the kids are nearly grown and on their way, I'll no longer have that context.
Once we sell the house in Chapel Hill, Grand Lake will become home base for a time, but with a year-round population of only 350 or so, it's way too small. With all the outdoor activities and visitors who come our way, summer and early fall are fine. But what then? Where will we live? How will we make friends? Like Elaine, I feel quite anguished about this issue. It's not easy to meet people who are reasonably thoughtful and emotionally sensitive, and I'm not a man who enjoys superficial conversation. I'm not a church-goer, either, so I won't have that option.
Last fall, I went to visit my brother- and sister-in-law on Martha's Vineyard where they were renting a house during the annual fishing tournament. One day, we visited a local arts and crafts show where artists exhibited their work. I also noticed a table where a local writer sat with her books on display. She lived year-round on Martha's Vineyard and wrote mysteries that took place on the island. She wasn't famous, but she was well-known on Martha's Vineyard and a valued member of her community. I felt envious in the good way — not that I wanted to spoil her experience, but I could imagine feeling proud and satisfied in her position.
As I grow older, belonging to some community seems increasingly important to me. I think we all need to feel that we belong and are valued by members of our community, don't you? As I worked my way through the backlog of comments here on the site (and I'm finally caught up!), I felt some sense of community. I felt moved by seeing names and reading comments from people I've "known" for several years now, even if we've never met. Many of you are part of my virtual community.
But it's not the same as belonging in the day-to-day sense. Where will I live and belong? How will I contribute to my community? What I envision seems hard to find, too, perhaps just an ideal in my head. The Northeast is appealing … except for the Winter and early Spring when I would be there. The South … no, thanks. California has the weather but is unaffordable. Is there an affordable city with mild Winter weather and a welcoming environment, where people read and care about the same things that I do?
Sometimes I think I'm only struggling with the approach of my 60th birthday next year, and that I'm having a hard time accepting that certain options are no longer available. Certain doors have closed. I don't have most of my life ahead of me and I'm not at the beginning of my career. Perhaps when my book comes out next year, the picture will change and I'll have a better sense of what is possible. Maybe in the end, we'll decide to stay put in imperfect Chapel Hill.
I expect that many people my age go through this experience. Do any of you feel this way?
I'm glad to be back to blogging.