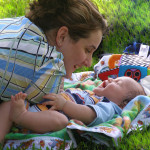 My client Ari got married this past weekend. Given his family background, and in light of a gloomy prognosis for his future made by a former therapist, it was a major and moving event. And yet, in our sessions leading up to the ceremony, Ari seemed "dispassionate," as I expressed it to him. I found no evidence for the joy I expected him to feel. I tried to help him connect with his happiness, while suggesting some reasons why he might find it difficult to rejoice.
During the session, I felt moved on his behalf though at first I didn't say so. Then, toward the end of the hour, Ari said, "Trying to help me connect with my joy is not the same thing as telling me you're happy for me." Words to that effect. I can't remember exactly how we got to that point, why my feelings about him mattered at that moment, but it really caught my attention. He needed to feel my joy on his behalf.
This is an issue that has been pressing on me for some time. Thanks in part to a therapist-client who stresses it in her own practice, I'm coming to realize that clients sometimes need you to enter into and "up-regulate" their joy. This term comes from affect theory and the role mothers play in either reducing or intensifying the expression of different affects, positive and negative. In the psychoanalytic vocabulary of my training, we refer to "containing" emotions, helping clients to bear with and understand their feelings, which sounds so neutral compared with the idea of entering into and turning up the volume on a particular experience.
I spent the remaining minutes of that session trying to communicate what I felt, hoping it would help deepen his experience of his own joy. I'm not sure how much it helped, given that I came late to the game.
Lately, I find myself saying things to my clients like, "I'm so happy for you! Given how hard you've worked, that's so great that such-and-such happened, or you achieved X!" Or sometimes, I'll cry out a very unprofessional "Yay!" It's not simply an intervention "strategy" – it's what I actually feel. Sometimes, I'm moved and tears will come to my eyes. You have to understand that, coming from my psychoanalytic background, this feels highly unorthodox and is a far cry from the so-called "blank screen."
It makes me think of the way parents express excitement when their infants reach developmental milestones. I remember applauding, laughing, and giving great praise when my children rolled over or took their first steps. Growing children feel a sense of accomplishment and joy when they master a new challenge; their parents then step in and up-regulate that experience, intensifying the joy. I believe, and recent neurobiological studies have shown, that these expressions of joy within the parent-child relationship are essential for normal brain development.
Ari's mother was (and still is) so hyper-anxious that I doubt she ever had much room to experience joy in his accomplishments. We've spent a lot of time lately talking about the ways her state of mind affected him as a growing child, how he was over-exposed and invaded by her anxiety, but we haven't discussed this lack of joy. It seems a crucial point. With many clients who grew up in such emotionally deficient families, I've come to believe that a therapist feeling and expressing joy in their progress – which implicitly involves the acknowledgement of the affection and even love we feel for them – is an essential part of emotional growth in psychotherapy.
As a society, I think we have a problem with expressions of joy. Rather than up-regulating the experience, we tend to dampen it. "Settle down," we tell our older children, or "All right, that's enough now." I'm not sure why joy is so threatening, but in later years, after all that rejoicing over early developmental milestones, we tend to emphasize restraint instead, down-regulating the joy. Too much joyful pride might be called bragging. In subtle and not so subtle ways, we criticize our children for being too exuberant.
After my radio interview the other night, dear friends who had listened to it live called to tell me what a great job I had done. They told me that I "rocked." I had felt quite good about that interview – the best I'd ever done, in fact – but hearing their praise intensified my happiness. I had such a big smile on my face afterward! During the interview, I briefly talked with the hosts of that radio program about my personal difficulty in feeling joyful pride when I sold my book last year, and they were incredibly generous in stepping in to rejoice with me. They up-regulated my joy and helped me to experience it more deeply. So did my good friends who called me afterwards.
I think we could all use a lot more joy up-regulation in our lives.