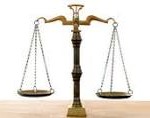 Rather than responding to each of the many comments I received on my original post on transgender issues, I've decided to write a new, more generally responsive post.
Let's go back to reader Lauren's comment, the one that many people felt was fair and measured. I think this is largely because she takes care to fill it with "respectful" disclaimers so that it appears to be a balanced view, and I'm sure Lauren actually believed she was being fair. Some other readers therefore didn't understand the strength of my response and found it defensive. Instead, I would describe it as angry. Political correctness gets under my skin, I admit it. It irks me that someone is willing to stop reading a blog she has valued, by an author whose book she has read many times, to show solidarity with friends, even though she acknowledges that my point of view has some validity. I'm not responding to a narcissistic injury; I'm reacting to a kind of thinking that is pervasive in our society and which I find frustrating, to put it mildly. But this isn't the main problem.
Lauren then accuses me of being insensitive to the plight of transgenders in society. She implies I'm a hypocrite because I've written sympathetically about the ways that narcissists and psychopaths are scapegoated while supposedly ignoring the similar way that transgenders are shunned, persecuted, etc. Her argument seems to be that by viewing trans as a mental disorder ("even IF you're completely right"), I am inviting or colluding with social ostracism. This makes no sense. When I empathize with the fate of narcissists and sociopaths, I don't pretend they're not mentally disturbed. Rather, I try to help readers understand the underlying pain and shame behind the behavior that makes them social pariahs. In my original post, I was trying to shed light on the unconscious psychodynamics of transgender people. In my view, these individuals are in enormous pain and deeply confused. I feel a great deal of sympathy for them, but I don't pretend to support the view that they are "born that way," any more than I pretend a psychopath is but a variation on "normal." To view a person as having a mental illness is not the same thing as inviting other people to persecute them.
As Lauren points out, the transgender community has instead tried to "normalize" their condition. You can read about their lobbying efforts in this regard and the reasons for it here. Lauren states: "The idea that having a gender identity that doesn't match your body is NOT a 'brain sickness' has, correct or not, helped to gain these people some serious traction in that regard [i.e., escaping from stigma and persecution]." In other words, I am insensitive to the plight of trans individuals because I don't support a position that she admits may be wrong ("correct or not"), even if I don't agree with it. To me, this is form of identity politics I find troubling and sometimes offensive. The truth does not matter. We must line up behind this particular interest group and support their position, even if we believe it to be wrong. If not, we risk being ostracized and shunned ourselves by those who are politically correct.
Lauren expresses her relief that she didn't refer her trans friend to my site. Maybe that friend might have read something to her advantage, something that could have resonated with her experience on an unconscious level, even if (or especially because) it diverges from the consensus view. As I discussed in my article on this topic for The Atlantic,, in the current zeitgeist, people are told they have "nothing to feel ashamed about," rather than being helped to explore the roots of their shame. Pretending that core shame does not exist promotes a defensive identity to ward off that shame, leading people to attack others who disagree in order to preserve and protect that identity.
Another reader, more measured in her response and trans herself, states that "there are many in our culture, who will take a post such as yours and hold it up as a rationale for denying someone like me equality, while claiming they [have] backing from experts (you). I realize that is not necessarily your intent." Like Lauren, she seems to feel that I should suppress my opinion because other people might mis-use it. Like Lauren, she believes that being identified with a mental illness will lead to denial of equal rights. Again, the argument seems to be that, despite what I believe, I should support the transgender community in promoting a theory that conflicts with my own experience.
Some readers have faulted me for supposedly over-generalizing from one case anecdote. Over the years that I've been writing this blog, I've made generalizations about many other conditions based on my experience and no one has ever objected. If I had confined my original post to a discussion of Toby Sheldon, concluding with the opinion that people who repeatedly seek plastic surgery are trying to "fix" an internal problem by changing their external appearance, I doubt anyone would have criticized me for over-generalizing. Another reader tried to delegitimize me by pointing out that I used the old DSM-IV designation (Gender Identity Disorder) instead of the newer DSM5 label Gender Dysphoria, as if that proved I was professionally unqualified to have an opinion. Other readers have been more blatantly hostile. I believe that this particular subject is a political hot potato right now. To have an opinion that diverges from the politically correct one invites attack.
Psychologists, by virtue of the limited number of people they can see in a lifetime, base their opinions on a small population. But we also base our views on a general understanding of how human beings work, universal features of our psychology, what seems to be true across the board. While I may not have much experience with transgender individuals, I've listened for years as people have struggled with their gender identities — not people who wanted to change their bodies as a result, but men and women who felt insufficiently "masculine" or "feminine," whatever those terms meant to them. They often felt deeply ashamed on some level, mistakenly (in my view) equating it with failure to conform to gender norms. It is from the fullness of my professional experience and my understanding of human nature that I have evolved my views.
To conclude: I have a great deal of sympathy for the suffering of trans people. Like ALL people with a mental illness (in my view), they deserve compassion and professional help rather than social opprobrium. But I also find it tragic that so many young people are feeling encouraged to make irreparable changes to their bodies. This debate has been incredibly stimulating and engaging, at least for me. The exchange I valued most was with a reader who brought to light just how much we DO NOT KNOW about the science in this area. I'm willing to acknowledge that my view is an opinion only, and that we can't say with scientific certainty whether trans is a mental illness, a physiological condition, or a mixture of both. But if that's the case, if we really don't know, then we should stop encouraging people to surgically alter their bodies and take artifical hormones, as if we actually DO know both the cause and the remedy for their condition.
You are free to disagree with me, but don't attack my integrity because I hold a view that differs from yours.