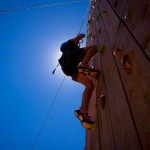 During a session on Thursday, one of my clients was talking about his feeling that he had "arrived" in his profession. In his mid-30s, he's well-established now in a competitive field, earning an excellent income and finding himself respected and sought-after as an expert. As I listened to him, I recognized that I had never felt that way, not fully. By just about any standard, I'm successful, leading a comfortable life; I'm valued by my clients and respected by my peers. I've written and self-published a book on psychological defense mechanisms that has sold far better than I expected. But I have not felt that I've truly arrived, not yet.
Arrival, to me, has always meant being accepted by the New York publishing world as a serious writer. As much as I love my work as a therapist, I've always thought of myself as a writer, first and foremost. For me, arrival would mean finding a first-rate literary agent and then securing a book contract with one of the Big Six. This is my definition of success and I've been trying very hard for a long time to achieve it. Despite what I wrote in my post about precocity and impatience, around the time I sold Why Do I Do That?, my contract with New Harbinger Publications didn't really give me that feeling of having arrived, not fully. New Harbinger is a small specialty house based in Oakland, California. And then, I had such an unhappy experience working with their editorial team, who tried to shove me into the cognitive-behavioral box, whatever satisfaction I felt didn't last.
I've mentioned here on the site that I've been working on a book about narcissism for a while now. In October, I sent my proposal out to A-list literary agents and actually got to choose between several very good ones who wanted to represent me. Together, my superb new agent Gillian MacKenzie and I worked hard to craft my first draft into the strongest proposal we could devise. I had some excellent and crucial assistance from my friend Emily Heckman, a freelance editor. As always, I had the weekly support and critical feedback of my writer's group: Laurel Goldman, Angela Davis-Gardner, Peter Filene, Christina Askounis and Peggy Payne. Earlier this month, Gillian finally sent out my book proposal to New York publishers. There was a lot of interest. Bids were due by noon yesterday — the day following the session with my client who felt he had at last arrived. I wanted so much to feel the same way.